About us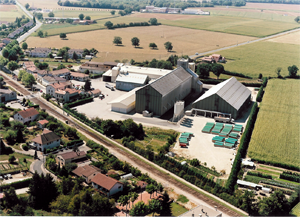 The BERNARD Group, grain merchants since 1922, is located in Saint-André-de-Corcy, in the French county of the Ain.
Our family business combines tradition and innovation, with the aim of bringing know-how to the customer's doorstep.
Bernard Horse Feeds, commonly known as HORSE UP, was inaugurated in 2002, initiated by a group of horse-lovers and equine experts.
Today our product-range is distributed throughout the Rhone-Alps region to many customers having put their trust in us, both businesses and individuals alike. You may find our products at our various depots and sales points, as well as through our representatives (map) across the Rhone-Alps and a part of Burgundy.
We propose a full range of equine nutrition and care products, whether for the racehorse or for the family hacking steed.
Our muesli and fiber diets are formulated by nutritionists to cover the needs of your horse in accordance with its age, its activity and its physiology.
Supplying you with quality feeds is our priority! All the raw materials used are selected and traced to ensure maximum quality. Our ISO 9001 certified factory, as well as our specific analysis and control process, ensure that your horse's well-being is fully taken care of.
You can count on our expert technicians to guide and advise you at any time, and on the whole HORSE UP team to satisfy your every need.
HORSE UP